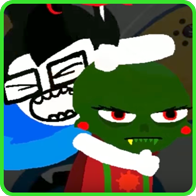 ACT 6 ACT 6 INTERMISSION 3.
Cinematic 100: GAME OVER.
John roughs up Caliborn and zaps away.
Karkat, Jake, Jane, Gamzee, Kanaya, and Dave die. Jake and Dave's deaths are judged heroic. Jane's death is judged just. Terezi and Rose are critically wounded. Roxy rescues Rose. LOFAF and LOLAR collide. LOHAC and LOCAH collide. LOTAK and LOMAX collide.

The Condesce has Aranea at her mercy.